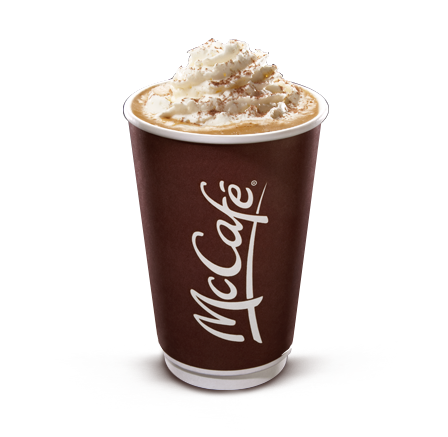 Where does someone go, when they want premium espresso-based coffee, without the premium price tag?  Look no further with Mcdonald's new McCafé espresso-based coffee line.    Every premium McCafé specialty coffee begins with a unique blend of 100% Arabica beans, fresh-ground  in-house for every cup.  For around $3, you can get your choice of drink that your regular coffee shop offers – Americano's, Latte's, Cappuccino's, Mocha's…the list goes on. Java lovers can now enjoy authentic specialty coffee beverages with the convenience and value that only McDonald's can provide.  Especially with the coupons that pretty much every household recently got in the mail, your morning pick-me-up can be bought with loose change.
Espresso: Freshly ground 100% Arabica beans in their purest, sweetest, most intense form.
Americano: A coffee made with espresso and hot water. For the coffee lover with a stronger taste palette.
Latte: Freshly ground espresso, frothed up steamed milk, with a thick layer of foam on top.
Cappuccino: Made with freshly ground espresso, cappuccinos are equal parts steamed milk and thick foam providing a stronger espresso flavor than a latte.
Mocha : Steamed 2% or skim milk mixed with rich espresso, chocolate syrup, real whipped cream and chocolate powder on top.
Deluxe Hot Chocolate: Freshly steamed milk and velvety chocolate syrup topped off with real whipped cream and chocolate powder.
McCafé espresso-based beverages can be customized with a choice of 2% or skim milk.  Flavour syrups include caramel, vanilla and sugar-free vanilla for cappuccinos and lattes.  Deluxe hot chocolate and mochas feature rich chocolate syrup and the option of real whipped cream.

MMV Contest: Modern Mix Vancouver is giving away a gift card for $50 to Mcdonalds.  Leave a comment below telling us which McCafé beverage you'd like to try.  One random winner will be chosen from the comments below.  Be sure to leave your email address so we can contact you if you're a winner.  Contest is open to readers across Canada.  Contest ends on Sunday December 11th.
To increase your chance of winning with additional entries, you can do the following things;
For a second entry: Follow @ModernMixVan on Twitter and tweet "I want to win $50 to @mcD_Canada to try their new McCafé drinks from @ModernMixVan. http://bit.ly/w2UMxU RT to enter!"
For a third entry: "Like" the Modern Mix Vancouver Page on Facebook and post on the wall "I want to win $50 to Mcdonald's to try their new McCafé espresso-based beverages from Modern Mix Vancouver!"