Space: A New Salon Experience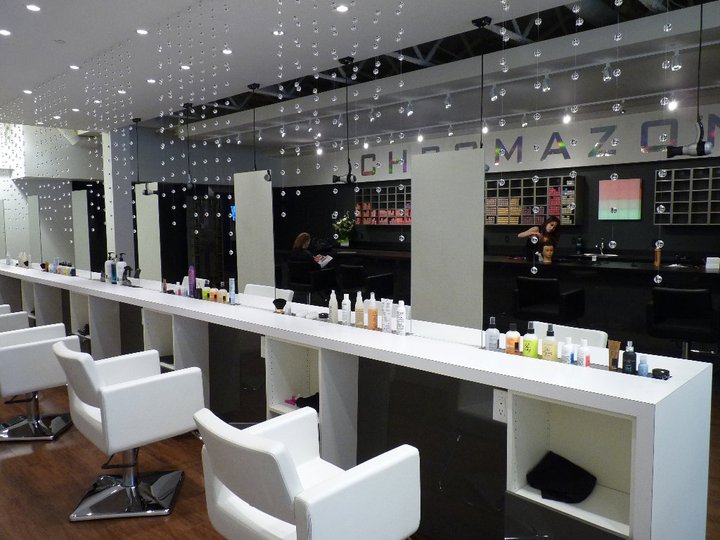 By Miranda Sam, MMV Guest Writer
From Modern Mix Vancouver's humble beginnings in 2008, we've always had a supporter in the charismatic and down-to-earth Michael Levine. Always changing with the times, Levine's the creator of salon such as Caramel, Statik and Tao, the former two which he has abandoned for his latest project, Space Salon (528 West Broadway at Cambie).
Space is Levine's conception inspired by New York based Ted Gibson Salon and Arrojo Studio, and the family of Cromeans Salons in San Diego. He spent time throwing ideas around with the three salon owners and has taken design and service ideation, mixing his own ideals of what a salon's environment and service should be like. The defining feature of Space is that owner Michael Levine focuses each process of the salon experience and creates customized areas for each.
Enter the salon and feel as though you've walked into a cross between a salon equivalent of a hotel lobby and a boutique; a feeling best executed at modern yoga studios. At once you're greeted with the comfort of a seated area, while hair products like Bumble and bumble line both walls. Look past the welcoming lounge, you see a single row of salon stations, a total of 12 chairs lining either side. What one's accustomed to seeing lots of chairs cramped into available wall space is evidently missing from Space. "I am a big fan of contemporary architecture and design so I tend to design my salons that way."
Even the experience of having your hair washed and scalp massaged is delicately designed. Located at the back of the salon, the hair wash station is built with ultra comfortable loungers and rolling footstools available for extension at the client's leisure. Ambient music flows through this semi-secluded area where silence is truly golden. "It's a spa in the shampoo space but a party in the salon."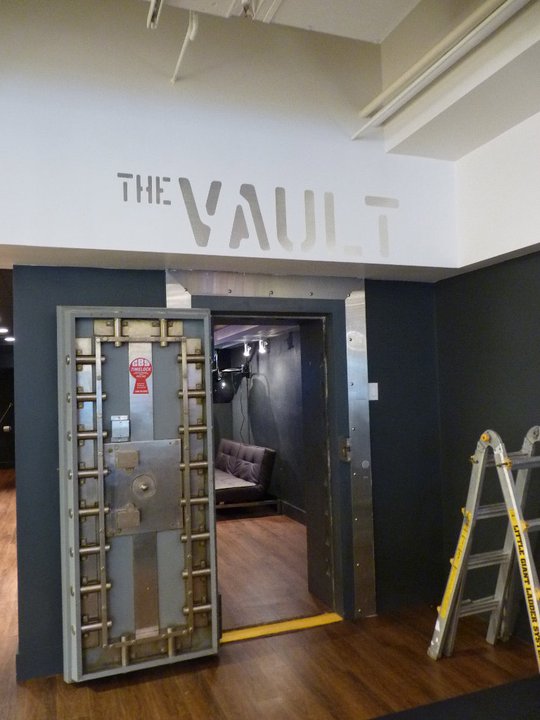 Of course, haircuts are done at the chair, but beyond that guests receiving colour treatments get the opportunity to sit at "colourspace," a colour bar fully equipped with barstools. Tucked away in a corner and out of sight from the main lobby, Levine describes it as a place where guests can see their stylist "weigh and mix it right in front of them the way a bartender would and then apply it while they sit at the bar." Colourspace has also been designed without any mirrors, creating an intimate environment conducive to conversations focused on the client's colour concoctions.
Guests awaiting colour to set in are cordially invited into The Vault. What, you may ask, is this vault? "I knew I could create something really cool and give clients another reason to love my newest salon," says Levine. Having taken over the space of a former bank, he decided to incorporate the heavy metal vault door into the mix for guests to relax while their colour processes. A long banquette lines one side of the enclosed space and flat screen TVs are available for entertainment. "Since everyone is a VIP, all our clients get past the velvet rope."
When asked about the latest hair trends available at Space, Levine brings up ombre, a popular colour dying technique popularized by celebrities such as Rachel Bilson and Jessica Biel. Always of an unassuming nature, he casually mentions that the philosophy behind his salon is not to allow his hairdressers to exaggerate trends, "we make sure our clients always look like they never try." Levine himself will be your go-to stylist for ombre, and go to salon stars Amber for short hair, Stef for colour corrections, and Erin for men's haircuts. I can speak from experience that Amber does a wicked crop, one that's comfortably lasted me longer than the recommended 3-6 weeks.
From ceiling mounted blow-dryers to a cubby for your purse, to a quiet shampoo on an ultra comfortable lounger to the sexy new colourspace, Levine has truly created a salon experience that embodies all the best concepts he's had over the years.
===
Miranda Sam is the editor of Style by Fire, Vancouver's only fashion retail blog. She's worked in various retail and wholesale roles in the fashion industry, and has interned at Matthew Williamson in New York City. Miranda has also contributed to webzines such as Vancouver Fashion Ezine and Stylefinds.