Bombay Sapphire – event at the Shangri-La Hotel
By MMV Dining Writer, Joanna Lee
Bombay Sapphire held an exclusive cocktail event at the Shangri-La Hotel's 58th Floor Estate on Monday night. During the night, the 50 or so guests were treated to inventive drinks mixed by Bombay's Global Brand Ambassador and Master Mixologist, Merlin Griffiths, and treated to canapes prepared by Vancouver's very own, Murray Bancroft. Guests learned simple food pairings for classic cocktail drinks using Bombay Sapphire.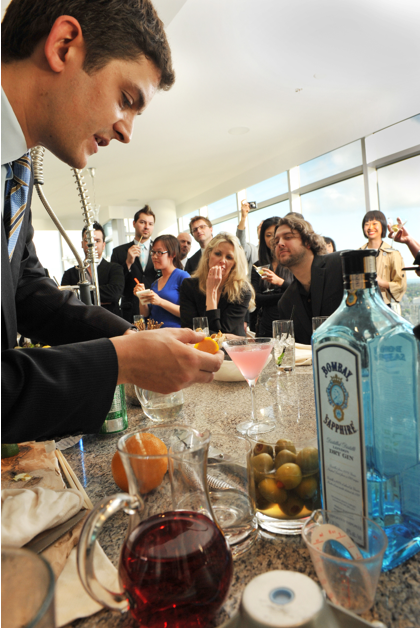 It was a highly educational evening as we learned that Bombay Sapphire is no ordinary gin. Instead, it is a premium gin like no other and highly unique. 10 perfectly balanced botanicals obtained from various regions of the world are infused and released upon drinking it. These botanicals include almonds and lemon peel from Spain, grains of paradise from West Africa, liquorice from China, and orris root from Italy to name a few. Each ingredient complements another and are carefully added such that no single botanical overpowers another. The natural flavours are infused to create a subtle yet highly aromatic taste and thus, appeals to both gin and non-gin drinkers.
Throughout the night, Merlin prepared some classic cocktail recipes such as the Sapphire Collins, Sapphire Ginger Mints, Sapphire 75s, Sapphire Ultimate Martinis, and my very favourite, Sapphire Cosmopolitans. These drinks were paired with Murray's easy-to-make recipes including Parma Ham Crostini with Lemon, Parsley and Marcona Almonds, Dungeness Crab with Lemon, Mint and Radish, and Gorgonzola Dolce with fresh BC Honeycomb guaranteed to impress even the boss. Murray shared his expertise and tips with the group for simple yet sophisticated home entertaining, perfect for the upcoming patio season. One of the most basic tips is the importance of using fresh, quality ingredients.
Overall, it was a highly entertaining and educational evening which ended off perfectly with a sunset view of Vancouver from the highest and newest building at the Shangri-La hotel. At the end of the night, we were given our own "Sapphire Collins" kit, complete with a lemon juicer, stir stick, and a bottle of Bombay Sapphire gin.

Photographs by Kent Kallberg