Modern Mix Vancouver had the pleasure of conducting an e-interview with owner, designer and metalsmith Kerianne Taves of Innergypsy Design, who was a participant in the 2009 Vancouver Fashion Week.

By Guest-Writer Megan Hui
Kerianne with models (Maddison & Natalie) wearing Innergypsy Design at VFW Opening Gala 09
MMV: How did you get into designing jewelry?
I've always felt a strong pull towards design and creativity but was never great at the traditional mediums of art. I had received many compliments on my accessories and my style. Then one of my friends suggested making jewelry to me out of the blue. After designing my own engagement ring with a jeweler from a really unique store called Bijou Treasures in Winnipeg, I remember instantly feeling that I wanted to do this. I spent 2 years at VCC in the Jewelry Art and Design program and I haven't looked back since!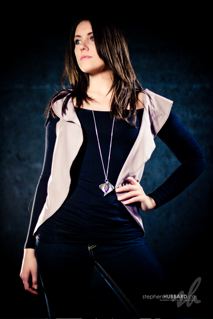 MMV: What made you decide to start your own jewelry line?
It was simply the next transition from school to starting my own business and I jumped right in. It has taken a few months to get off the ground, define my style, perfect my techniques, and learn about the business world but I'm really enjoying it. I wanted to create a line that was "bold, yet beautifully feminine". I enjoy making statement pieces but wanted to have a balance of unique pieces and retail ready jewelry that still stayed true to my style. The vision behind Innergypsy Design was to create wearable jewelry that combines the boldness of fashion with the creativity of art, while instilling confidence and self-expression.
MMV: What was your inspiration for the newest designs of your Spring/Summer 2009 collection?
I've been working on a line of jewelry since my grad show at VCC that contrasts forged sterling silver with hand carved wood. I wanted to create a unique take on wooden jewelry with versatile necklaces and bold earrings. Each piece is similar in design but every grain and curve is unique and designed to be one of a kind. I made a few pieces that were displayed on the runways at Porscia's show on Thursday, March 26, 2009. I debuted my new "fused" line at Vancouver Fashion Week 2009 along with my recent "plucked" line of domed sterling silver pieces inspired by flower petals. Bold sculptural pieces are in the Spring theme this year!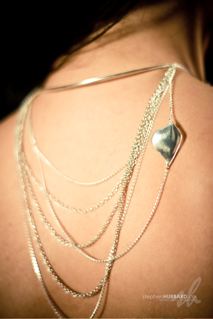 MMV: I understand that you showcased your collection at Vancouver Fashion Week 2009. How was your experience at this event?
This has been a great experience for me, I had no idea what to expect and the preparations were daunting at times. But now that it's the middle of Vancouver Fashion Week I'm just enjoying the atmosphere. It's great to be surrounded by so much inspiring fashion and art as well as experienced people in the field. It was a delight seeing my new line adorn Porscia's elegant clothing line on the runway. I was so honored and excited. I was also selling my jewelry on the weekend with the other jewelers in between shows. This was also a great networking opportunity for Innergypsy Design. I'm so thankful for all the exposure I had already received even by the third day of Vancouver Fashion Week.
MMV: What is your vision for Innergypsy Design in the next 5 years?
I'm striving for exposure in any avenue I can get it. I'm going to be updating my website for online shopping and looking into new retailers, fashion shows, and art galleries to display my jewelry. The great thing about Innergypsy Design is that it is funky and wearable enough to fit into boutiques, bold enough to work the runways, and creative enough to be displayed as art. I want to be exposed in all these areas to enhance my own creativity. I'm so lucky to have a father as a business coach and accountant to help me stay grounded and always looking forward. I have no shortage of dreams and I'm thankful to everyone who believes in me and pushes me forward.
MMV: What is a piece of advice you would offer someone who would like to begin designing their own jewelry?
I think the best piece of advice I ever received was to be true to who I was. There is a lot of pressure and competition in this industry and it's important to ground yourself with a great community of artists as well as family and friends. The other piece of advice I would offer is to treat your art as a business, be organized, look ahead, and always keep dreaming! I feel like humility in your trade is important, I'm always looking for new avenues to learn design and traditional techniques.
Statement Necklace – Carved Wood & Sterling Silver