When it comes to writing dining reviews, my first thought is, who am I to judge a flavor of food when I am often biased by my own preferences and notorious picky-ness? That being said, I often find myself debriefing the general vibe and atmosphere of a restaurant venue, and only listing out the menu items instead of commenting on their taste. However, every so often, the food is so terrible that anyone sitting in my place would have thought the same thing.
The New Bohemian (3162 West Broadway) is taglined as a local restaurant and social lounge. The venue is undeniably chic with lush decor and damask patterned wallpaper. Reminiscent of trendy downtown lounges on the Granville Strip, there is an emphasis on the full service bar, a DJ platform near the back, and a variety of seating.
I came here for my first Dine Out Vancouver of the year. Priced at the moderate menu of $28, The New Bohemian's dine out choices consists of four courses. Being adventurous and wanting to try as many dishes as possible, my friend and I ordered a different selection for each course.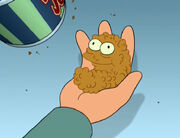 The Split-Pea Soup and Tomato Bocconcini as pre-course appetizers were nothing out of the ordinary. A broth of pureed peas and a meager slice of bread. The fresh tomatoes tasted healthy. Nothing special. For the next course, the oversized Tortellini, stuffed with minced beef and mushrooms, was cold on the inside! Definitely undercooked, with a chewy pasta exterior. As my friend politely asked if the stuffing was supposed to be cold, the dish was replaced fairly quickly by our apologetic server. Meanwhile, my Macadamia & Coconut Prawns reminded me of the "Popplers" on Futurama and I couldn't help but wonder if they were going to start talking to me and cry for help…
For our entree, I had the Seafood Risotto while my friend had the Bone-in Organic pork chop. When the food came, I was eying my friend's plat. The perfect "criss-cross" pattern charred onto the pork chop. A bone jutting out at the perfect angle of the meat. A colorful medley of vegetables. Meanwhile, there were literally only two prawns in my entire dish, covered by an oily mess of risotto. Pools of orange oil emitted under my mush of rice. I was told it was chile oil drizzled on top and on the side, but the question remains: why douse an already rich, heavy, carbohydrate dish with more oil?
All that being said, I am so glad I did not order the pork chop. When he cut me a piece, I distinctly remember remarking that he had cut me a piece of fat. Mid-bite and halfway through the consumption of his pork chop and after some quick Blackberry research – we discovered that the pork was not supposed to be rare. Turns out what I ate wasn't pig fat – just raw meat!! Holding up the candlelight to the rest of the meat, there was a distinct, fleshy pinkness on the inside of the pork, with texture reminiscent of raw chicken breast. With more profuse apologies, that dish was also quickly whisked away and replaced (at my friend's request) with the halibut instead. "Can't screw fish up, right?" followed by a "Can you tastes this for me? – I can't tell anymore!"
Dessert was fine – a Chocolate Torte with vanilla ice cream and a Fresh fruit Napoleon with layers of pastry with fresh fruit. But by that time, my mind was already made up about The New Bohemian. And with some further blog research, I discovered that the restaurant was getting less-than-stellar reviews from other sites too: here, here, here and here (Globe and Mail).
In conclusion, if you were thinking of dining out at The New Bohemian, you should reconsider staying in.