When Wasserman asked the audience, "Should we talk about Sex and the City?", the entire room filled with applause. So what makes this TV series so special? Cattrall says it is hard for her to take an objective view because of her involvement in the series, but she describes it as "post-feminist". For example, Sex and the City exemplifies working women with style, without the "man suit". Cattrall believes the four main characters are "beautifully drawn" and together makes one complete woman. At this point, the audience reacted with a murmur of agreement. When asked if there is going to be a sequel for Sex and the City (the movie), Cattrall remarked that she gets into trouble every time she's asked this, but, "it looks good".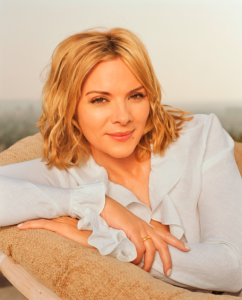 Hey to all the Vancouver Sex and the City fans out there! Kim Cattrall, or perhaps more widely known as Samantha Jones from SATC, will be making an appearance at Frederic Wood Theatre (6354 Crescent Rd) on the UBC campus on Wednesday January 7, 2009. Presented by the UBC Department of Theatre and Film, "A Conversation With Kim Cattrall", is a free and public event, so get your reserve your tickets fast – this is bound to be a full house.
.
Kim Cattrall was born in Liverpool England in August 21, 1956. Her family immigrated to British Columbia, Canada when she was a year old, but she went back to England at age 11 when her grandmother fell ill. During Kim's stay in England, she studied at the London Academy of Music and Dramatic Art. When Kim Cattrall was 16, she returned to Canada, where most of her films were made. Kim Cattrall's acting career began in 1972 when she attended the American Academy of Dramatic Arts in New York City.
According to the press release:
Award-winning Sex and the City actress, producer and author Kim Cattrall returns home to BC to talk to Jerry Wasserman about her professional work in television, theatre and film, her life challenges, women in the work force, post-feminism, self-image, and her 35+ years of success in one of the toughest, most competitive businesses out there.
Where: Frederic Wood Theatre
When: Wednesday January 7, 2009
Time: 12 to 1 pm
Ticket Information: Call 604-822-2678 to reserve your FREE tickets (maximum 2 tickets per patron).
.
For more information, check out the UBC Theatre Website.
Thanks to the Kim Cattrall Fansite for her biography information.