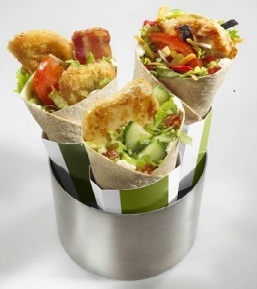 The newest addition to the McDonald's Canada menu is the Signature McWrap, which is already widely popular in Europe and is finally across the pond here in Canada.
The McDonald's Signature McWrap was developed based on research that Canadians are looking for menu options that are prepared quickly and suitable for take-out, especially during lunchtime. According to the research, lunch is the most skipped meal of the day – more so than breakfast – and 80 per cent of lunch occasions take place on-the-go.
Each Signature McWrap is made with 100 per cent seasoned chicken breast (grilled or crispy) and served with ingredients including shredded lettuce, crispy cucumber, and fresh tomato in a steamed whole-wheat tortilla wrap. Interesting fact: the whole-wheat wrap is customized to Canadian taste preferences.  For now, customers can choose from three flavours:
Chicken and Bacon Signature McWrap – tomatoes and Jalapeno Monterey Jack cheese
Sweet Chili Signature McWrap – fresh cucumber and sweet spicy Thai sauce
The Fiesta Signature McWrap – made with tomato, Mexican chili lime tri-coloured tortilla strips, shredded Monterery Jack and light cheddar
With the "grab and go" mentality in mind, the new Signature McWrap would be perfect to take out from McDonald's and eat outside in Vancouver's summer sunshine. One of my favourite weekday outdoor lunch spots in downtown Vancouver are the benches by the CBC building on Robson and Cambie – and by coincidence, it's right around the corner from McDonald's!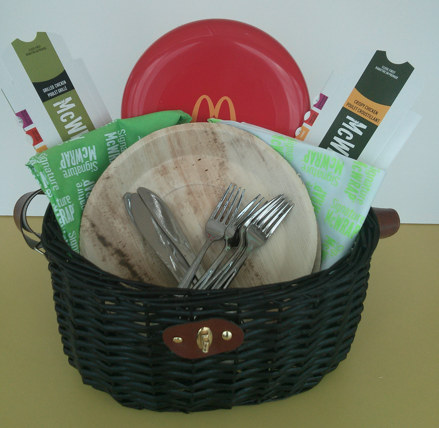 MMV Giveaway: Modern Mix Vancouver is giving away a picnic kit (valued at $85) which includes a picnic basket, a blanket, a frisbee, and two vouches for a Signature McWrap so you can try this new menu item for yourself!  To enter, please "LIKE" the MMV Facebook Page by clicking here and ALSO leave a comment below about which Signature McWrap you hope to try from McDonald's.  Giveaway ends Sunday May 26th (11:59pm PST). Open to anyone in Canada.
For an additional entry: Follow @ModernMixVan on Twitter and tweet "Win from @ModernMixVan a picnic basket kit w/ 2 Signature McWraps from @McD_Canada. Click here: http://bit.ly/13wEN2T | RT to enter!"