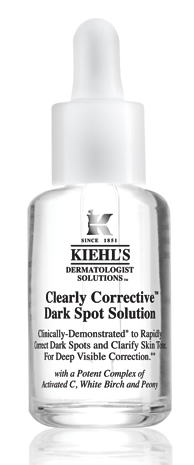 Following the 2010 breakthrough development of Kiehl's Photo-Age Corrector, Kiehl's Since 1851 chemists are delighted to introduce a fast, exceptionally effective formulation developed to promote youthful clarity while addressing the appearance of dark spots, discolourations and hyper pigmentation – Kiehl's Dermatologist Solutions Clearly Corrective Dark Spot Solution.
Modern Mix Vancouver is offering 5 readers a unique opportunity to act as test drivers for this revolutionary product before it hits stores at the end of January 2012. We would postal mail product samples to you, and ask you to provide testimonials regarding this product.  Your feedback will potentially be shared on Modern Mix Vancouver and the Kiehl's website, and through the Kiehl's Canada social media platforms.
Requirements:
Ideally one of your skin concerns would be darks spots, discolourations and hyper pigmentation on your skin and you are open to trying Kiehl's Clear Corrective Dark Spot Solution to assist in clarifying your skin
You will have 7 to 10 days to test the product and will provide Modern Mix Vancouver with your initial thoughts or feedback by January 14th
Some sort of online social presence (ie. Twitter, website, etc.) that we can link your feedback/review to, if your opinions are featured on either Modern Mix Vancouver or Kiehl's Canada.  (You don't have to be super influential – we just want to credit your feedback!)
Canadian mailing address
If you're interested in this opportunity, please leave us a comment below with your skin concern(s) and how you hope the Kiehl's Clearly Corrective will help.  Be sure to leave your email address and links to your social media account as well as the city you are from.  We will be contacting 5 readers by email on Thursday December 29th.
Please feel free to share this with your friends who may be interested in testing this product.  Thanks!