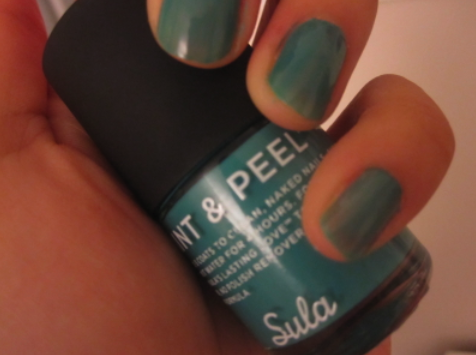 I was browsing along Main Street today and stopped by Front & Co.( 3772 Main Street), the consignment/gift store and bought a $10 bottle of "Paint & Peel" nailpolish by Sula, in a matte teal shade named "Azure".  Other than being "big three free" of Formaldehyde, Toluene and DBP, the selling point of this nailpolish is that you can easily remove it from your nails by peeling it off, instead of using nailpolish remover!
First of all, I noticed that I was able to paint my nails really quickly because I took less care to "paint within the lines".  I knew that if I screwed up, I could easily just scrape off the color which got onto my skin.  And it dried fairly quickly too …. without the horrible nailpolish smell!  My advice is to put on a thick first layer to get the block of matte color you want – it doesn't get gooey like normal nailpolish.  
However, the color was a lot darker than it looked in the bottle – I was expecting a bright teal color, but instead, it was a grungy teal.  (Maybe I'm just not used to it).  Even though I let it dry for a good 20 minutes, the edges started to peel after an hour and I had to peel those nails off and redo them.  Peeling was easy … remember when you were younger and you would put patches of Elmer's white glue on the back of your hand/arm, wait for it dry, and peel it off?  That's kind of what it felt like.  
Anyway, I took a shower two hours later, everything peeled off!  (I guess they were serious when the instructions said no contact with hot water for 3 hours!)  So, I re-did all my nails again and will be more careful with them this time around.
Here are some tips from the Sula website on how to best use their product, maybe you will have better luck than me:
Make sure nails are clean and free from any nail product or creams before applying.
Apply two coats and let dry for at least 15 minutes.
Do not let nails come into contact with hot water for 3 hours.
Touch up nails on the go with the quick drying formula.
In conclusion, perhaps everyone should have one bottle of paint & peel nailpolish in their collection as a "novelty item" to play around with, but other than that, stick to normal nailpolish – which has been tried and true.  Other nailpolish brands which are "big three free" include OPI, Essie, Butter and Lippmann Collection.