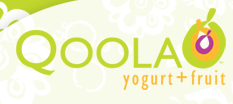 By Alicia Woodside, MMV Fitness Writer
Qoola Frozen Yogurt + Fruit (1116 Denman Street) offers the great taste and atmosphere of a regular dessert destination, with the added bonus of being excellent for your health. The store offers Vancouver's only fresh frozen yogurt, as well as organic whole grain waffles with free-range eggs, fresh crepes, daily-prepared fruit, smoothies, and popular acai berry bowls. Qoola tops traditional ice cream and dessert outlets, not only because of its deliciousness, but also due to its 135-calorie serving size of their small Qoolala (6 oz), loaded with active bacterial cultures which aid in reducing the effects of lactose intolerance, boosts the immune system, and increases brain stimulation.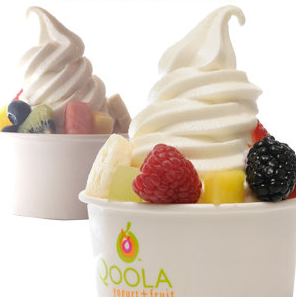 Qoola is the only frozen yogurt destination in Vancouver that provides fresh frozen yogurt, which contains up to an estimated 100 to 400 times the quantities of probiotic cultures per gram than competing frozen yogurt providers. The yogurt itself comes in four flavours: original, chocolate, green tea (made with real matcha), and a feature flavour. To add to your fresh frozen yogurt, choose from a huge array of fun toppings, including fresh-cut, daily-prepared fruit and crunchy spoonfuls of your favourite childhood cereal.
Overwhelmed by the many options? Qoola even suggests featured creations, such as the Qoolbama, a yogurt inspired by President Barack Obama, in red, white, and blue. If you choose one of Qoola's smoothies, add some hemp seed powder as protein, or "Greens Plus", a plentiful mixture packed with more nutrients than you could imagine. After enjoying one of Qoola's homemade waffles, prepared with organic whole grains, barley, whey, oats, and free-range eggs, I felt satisfied and well-nourished.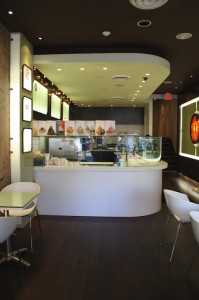 Beyond the food, what struck me most about this new business is the store's sincere purpose and devotion to its customers. Managing Director Warrick Chu, a Vancouver native, explains, "I want customers to know what [foods] you are putting into your body". In an age when even McDonalds claims it is part of a balanced lifestyle (as a sponsor for the 2009 BMO Vancouver Marathon), it is great to see a company that truly acts on its stated purpose. To deliver on its mission to provide a healthy dessert alternative, Qoola refuses to cut costs in ingredients, and provides only fresh materials, which certainly come at the expense of profits.
For example, Warrick explains that the store incurs extra costs to ensure that all fruit is fresh, (except for the acai berries, which retain the most nutritive value in a frozen form). The company has a ninety-seven page nutrition document for employees to reference, and insists on serving fresh frozen yogurt only, despite the huge challenges this poses to the business. Warrick hopes the store becomes not only about quality food, but about astounding customer service. He hopes that his staff can truly get to know customers, and provide unconditional service, such as always giving the customer the extra smoothie that doesn't fit into the cup, or offering customers filtered water free of charge.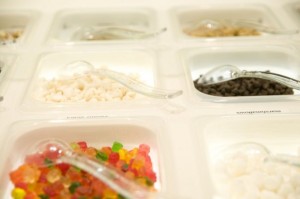 Not only is the store dedicated to customers' well being, it is also serious about its role in the community and its impacts to the environment. Despite the added costs, all of Qoola's packaging is biodegradable, compostable or recyclable, T5 fluorescent lighting is used to conserve energy on menu boards and displays, and the company has a Green Table membership,  which means it is collaborating with other restaurant professionals to reduce environmental impacts. The store even composts leftover organic waste with the help of a family friend and hopes to coordinate a way for leftover food to feed hungry mouths. At Qoola's recent grand opening party, an offer for free yogurt in exchange for non-perishable food donations raised an impressive 138 pounds of aid for the food bank.
If this sounds like a place you want to hang out, the store is a great choice for an afternoon break, a study spot (boasting free Wi-Fi), a delicious stop during a stroll along the Seawall, or a friendly get together at any time of day. It is well equipped for a lounge-like atmosphere in the evening, as the store's spotlights fade into the night. Head in to check it out Monday through Thursday from 1pm to 10:30pm, Friday 1pm to midnight, Saturday 11am to midnight, or on Sunday from 11am to 10:30pm. Despite these stated hours, owner Warrick Chu says, "we will never close our doors on a customer!"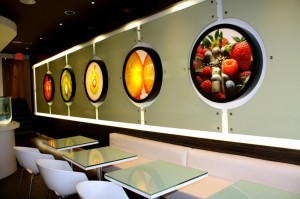 So next time you're strolling along English Bay and heading for a treat at one of Denman's many food outlets, skip the Starbucks' dessert-in-disguise beverages, the luring Cupcake store, and that seductive, sweet-smelling Italian bakery. Instead, head into Qoola. This frozen yogurt destination will leave you with your sweet tooth satisfied, but also with a snack that has added nutritive value for your body. Finally: a conveyor of sweet treats and desserts that are good for you and true to their slogan of "Pure Heart + Pure Body"!