Bite of White Rock – 6th Annual Dining Festival (Jan 16 to Feb 7)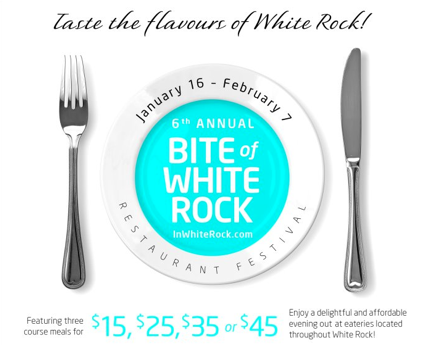 Are you from outside the Lower Mainland core and don't feel like making the trek out to Dine Out Vancouver this year?  Or maybe you couldn't get a reservation at the time you want.  Or perhaps you're already a veteran Vancouver foodie and want to try something new.
Not to worry – the 6th annual "Bite of the Rock" restaurant festival presented by the White Rock Business Improvement Association, features a similar format to Dine Out Vancouver.  Choose from 20+ restaurants and eateries located throughout White Rock, which have three course menus from $15.00, $25.00, $35.00 and $45.00.  From fine dining to to international cuisine to meals for the whole family, there is something for everyone to choose from.  For more information and restaurant listings, click here.