Pink Elephant Thai – One Year Anniversary (1152 Alberni Street)
Part of the Thai House Restaurant Group, Pink Elephant Thai, the baby of the family, will be celebrating its first anniversary this month.  Did you know, that over the course of one year, the busy restaurant used 8,352,000 ml of coconut milk, 20,000 kg of rice, 800 pounds of basil leaves, and 9,880,000 grams of curry paste?!
I went last week for dinner and noticed that they were playing the Canucks game on multiple screens.  I can see why Pink Elephant Thai is a great alternative hotspot to catch the game on the big screen, while enjoying authentic Thai food, cocktails or Singha beer (a popular beer in Thailand).  To cheer on the Canucks, Pink Elephant Thai is offering $5 appetizers and $3 local beers on all Canucks game nights. For those who want to escape the hockey game but still enjoy some Thai favorites, Pink Elephant's upstairs dining room is tucked away from the sports action.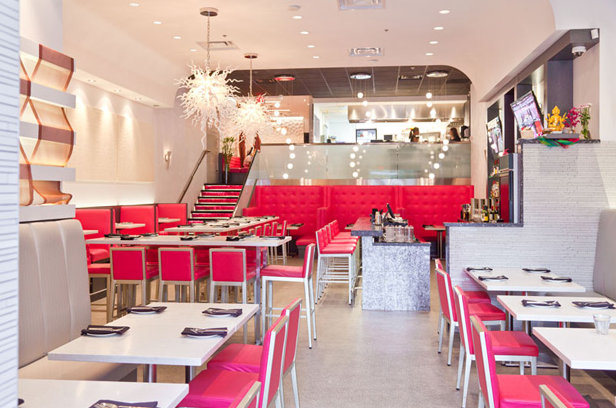 In the main portion of the restaurant, Pink Elephant Thai features a popular communal table running the length of the restaurant, as well as oversized booths, and a chef's table to catch all the kitchen action. Overall, the look is ultra sleek with gleaming white, cool grey, polished black, and lots of the restaurant's bright, signature pink.
Pink Elephant Thai's menu offers both New World and Traditional set dinner menus for parties of two to six, as well options for shared appetizer platters. In my party of two, we ordered a la carte and shared Thai Spring Rolls ($9) and the Yum Woon San ($10) salad, which is a traditional Thai salad with minced pork and tiger prawns mixed with vermicelli noodles, and flavoured with various Thai spices.  Because the springrolls are deep-fried, crispy and oily, I requested a side of fresh lettuce, which I wrapped my spring rolls in.  I loved the combination of cool, crisp lettuce, contrasting against the hot crunch of the spring rolls – try it out, it's a totally different spring roll experience.  As for the salad, I was pleasantly surprised that the glass noodle salad was served warm.  For the main course, we shared a Green Curry Chicken ($12) with a side of jasmine rice ($3).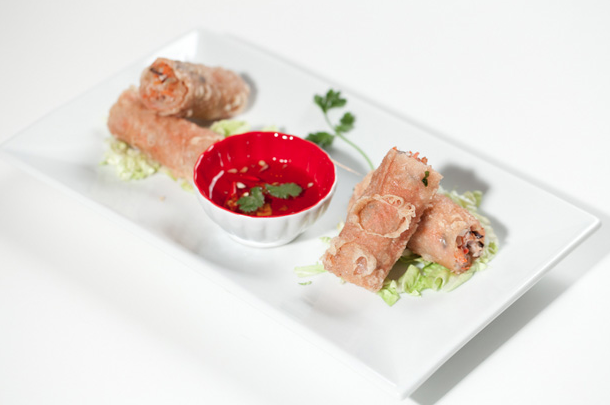 The next time I visit Pink Elephant Thai, I would like to try the Pad Thai (a classic Thai noodle dish), which is on special for $9 on every Monday night.
Pink Elephant Thai is located at 1152 Alberni Street and open seven days a week, from 11:30am through 10:30pm. It's open late for special parties and on weekends, always serving lunch, dinner, cocktails, plus everything in between.